Date Fruit
Dates Fruit is the fruit of Palm tree and it has a thin skin, a hard seed and a very sweet taste. Fresh dates are exposed in clusters from the Palm tree and gardeners pick the clusters in bulk during the season. After picking the Fresh Dates – which some goes to consumption market directly – the clusters are then moved to a sanitized facility for selection and processing,
Most of Iran Date production is in south of Iran spreading through several provinces such as Kerman, Bushehr and Baluchistan.
Date Nutritional Value
Dates contains many vitamins including A, B, C and E along with minerals. 25% of Date composition is Sucrose along with 50% Glucose. The remaining composition is mostly made of Albumin, pectin and water.
| Item | Amount in 100 Grams |
| --- | --- |
| Calories | 277 Kcal |
| Carbohydrates | 75 Grams |
| Protein | 1.8 Grams |
| Fat | 0.15 Grams |
| Water | 21.3 Grams |
| Fibers | 6.7 Grams |
| Sugar | 66.4 Grams |
| Cholesterol | Zero |
Dates also include handsome amount of potassium, manganese and Vitamin B-6.
Nutritional Benefits of Dates
Improve blood circulation and digestive system
Helps with Alcohol Intoxications
High Energy Content
Regulates cholesterol and sugar levels
Keep iron levels for pregnant women
Assists in relieving fever
Empowers the body immune system
Different types of Iranian Dates
With over 50 different species of dates, Iran is the 3rd largest producer of dates in the world. Most famous Iranian date are as follows:
Piarom (Piyarom) Dates
Piarom dates are first class in commercial markets and have attracted the attention of the global markets for long. Piarom is a semi-dry date with 15% moisture content, Oval shape and usually 3-5 centimeters length. It is also useful for patients suffering from Diabetics, Asthma and High Blood Pressure.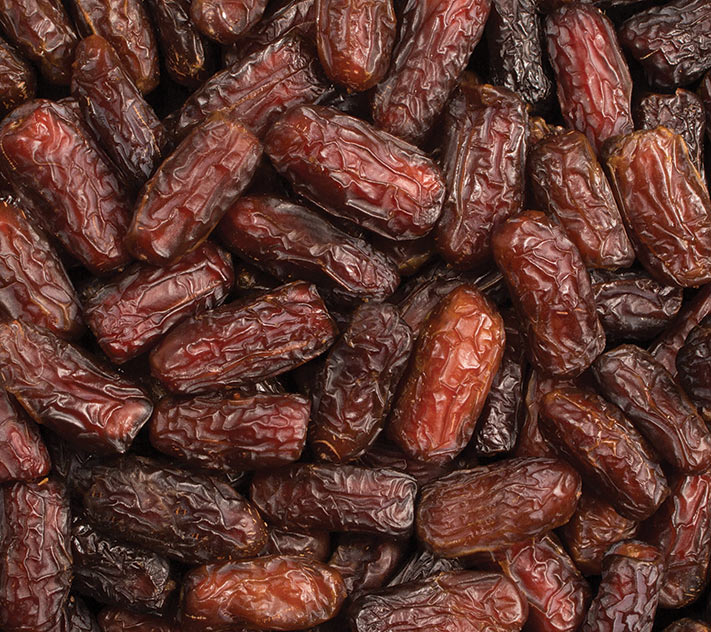 Rabbi (Rabby) Dates
Rabbi Date has thin skin and it is brighter than the conventional dates with a reddish tone and a small seed in long shapes and because of it low moisture content, Rabbi Dates can be stored in normal temperature without refrigeration.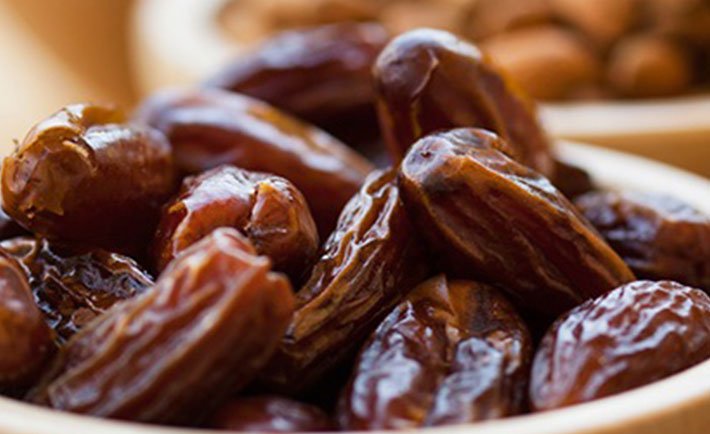 Mazafati Dates
Mazafati Date is one of the fleshiest Dates with Chocolate-Caramel special taste and 100% used for direct consumption as fresh. Due to its very high moisture content – as high as 25% – Mazafati Dates must be refrigerated in -5 to zero degrees Celsius. This date has very high calorific value and oval shaped.
Zahedi Dates
Zahedi Date is relatively less sweet in taste, round shaped and it has low moisture content (below 15%). Generally, Zahedi is considered an economical choice for international markets and mostly supplied a Dried Date rather than fresh. Considering its high sugar content, medium sweetness and Low Fat, it is a perfect recipe to gaining weight.
Sayer Dates
Sayer Date is a semi-dried Fruit with low moisture content (less than 15%) and high solubility in water. Most Sayer dates are 100% organic and grown without use of pesticide nor chemicals. Sayer Date have a general yellowish texture and it is very sweet and can be kept at room temperature.
Date Packaging
The packaging of dates generally depends on their type and species. For example, Zahedi dates are usually exported in bulk in packages of 3 and 5 kg while Other dates are packaged in 600 to 800 gram packages inside and outer cartoon of roughly 10 Kg with 48 dates in each package.
Date Chips (Chopped Dates)
To make date chips, the moisture of the date is extracted and the date becomes fully dry. The product is then prepared from dried dates, which after separating the kernels by a special technique, the chips are divided into one-size-fits-all cubes and rolled in flour to dry so the pieces do not stick back together. Chopped Dates have a longer shelf life than fresh dates.
100 grams of Date Chips contain:
Protein: 20 to 50%
Phosphorus: 50 mg
Magnesium: 89 mg
Vitamin B2: 0.6 mg
Vitamin B1: 0.03 mg
Iron and Vitamin C: 2.6 mg
Date Chips are suitable for use with tea instead of sugar and for cooking all kinds of cakes and foods (lentils) and are rich in vitamins and minerals.